The Process to Progress
(up)date in crop protection research
KNPV fall meeting November 26 2013
Many visitors, including students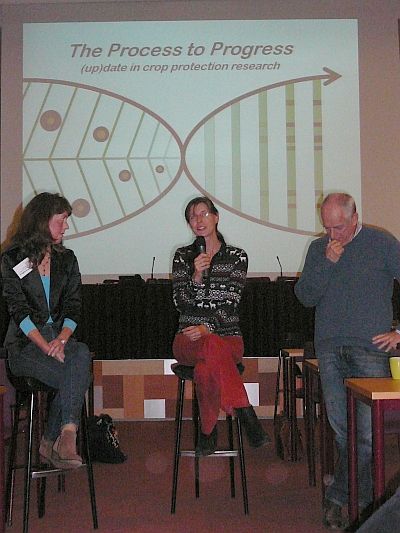 The forum of the Colege Tour.
From left to right: Annet Zweep, Gera van Os and Jan Bouwman.
The open fall meeting, with sessions in Dutcha and English language, was visited by 105 persons of which 30 were students. Part of this day was an alternative 'College Tour'. Keynote Gera van Os presented some of her successes during the morning session. During the afternoon she was also interrogated about failures, career steps, and motivation, together with Annet Zweep (Ministry of Economic Affairs) and Jan Bouwman (Syngenta).
As most important motivation, all three mentioned curiosity and the desire to make this world a better place. They advised the young generation not to back away form the large worldwide challenges and not focus on non-durable solutions.
Program with links to available pdfs
9.00

Registration

Opening, Haakzaal

9.35

Keynote, KNPV-College Tour, deel 1, Haakzaal

Het grootste succes van...... Gera van Os pdf

10.10

1a. Nederlandse sessie, Haakzaal

1b. English fundamental session, Tarthorst Hall

10.10

Harm Keidel, LIOS
Aaltjes, meer dan alleen schadelijk

Jordi Boshoven, WU-Phytopathology
Some homologs of Verticillium dahliae effector Ave1 contribute to virulence in other plant pathogens

10.30

Geert Smant, WU-Nematologie
Nieuwe inzichten in de functies van speekseleiwitten van plant-parasitaire aaltjes, en mogelijke gevolgen voor de praktijk

Charikleia Schoina, WU-Phytopathology
An in vitro infection system for studying Phytophthora-host interactions using tomato cell suspensions

10.50

Gerard van Leeuwen, NVWA, divisie Plant
Aardappelwratziekte: je ziet het niet, maar 't is er wel! pdf

Dryas de Ronde, WU-Virology
Dominant resistance against the Tomato spotted wilt virus in Capsicum annuum is triggered by the RNA silencing suppressor protein and is temperature sensitive pdf

11.10

KOFFIEPAUZE, Lounge

COFFEE BREAK, Lounge

11.50

Eric Hees, CLM
Boer, bier en water: of hoe de praktijk het onderzoek stuurt pdf

Maaike van Agtmaal, NIOO
Importance of microbial volatiles in natural suppression of soil borne pathogens

12.10

Peter Leendertse, CLM
Bommelerfruit: netwerkend aan de slag met duurzame gewasbescherming pdf

Mireille van Damme, WU-Phytopathology
Plant defence against Verticillium wilt disease through RNA silencing

12.30

LUNCH

13.15

2. English applied session, Haakzaal

13.15

Sanne Heijting, WUR-PRI
Perspectives for site-specific application of soil herbicides in arable farming pdf

13.35

Bram Hanse, IRS
The emergence of new plant pathogens: Stemphylium in Dutch sugar beet production pdf

13.55

Jan Buurma, WUR-LEI
Crop protection in horticulture; how to rescue growers from punishment for shortfall of control agents? pdf

14.15

Dick van Velzen, DVV Holding
Development of a low-dose / slow-release system for the topical dosing of bio-actives

14.35

COFFEE

15.15

College tour met keynote en stakeholders in de gewasbescherming

16.00

Drinks, Sports bar Down Under

17.00

End
When a pdf that you want is not present, please contac the contributer directly.